Stay Young by Staying Flexible (Home Video)
---
Published: (August, 2019)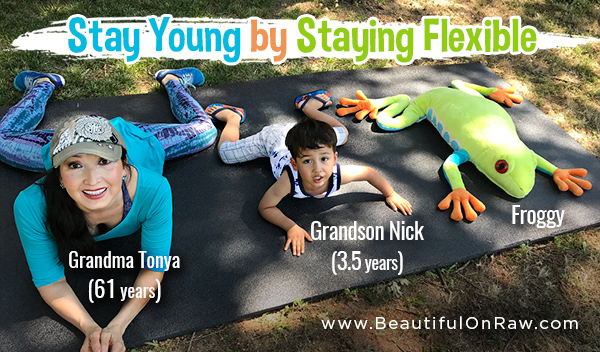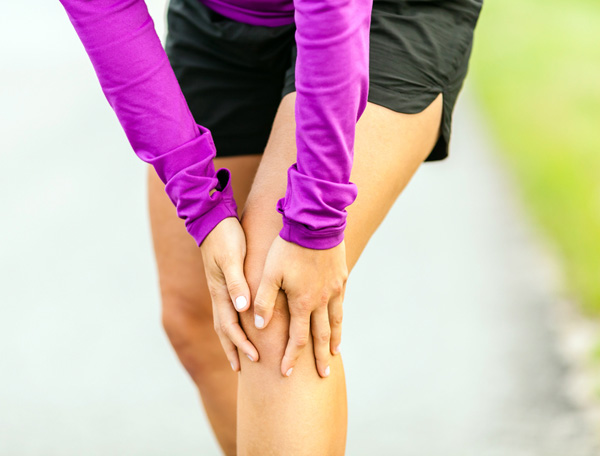 I get emails like this often:

I'm not 100% raw, but I eat well, plenty of raw foods. I've always been active—Zumba, step and spin classes in my gym, and a runner in my younger years. I'm only 58, but my doctor said I need a hip replacement and I have some arthritis in my right knee... I don't understand why this is happening.

We do need to exercise, no question about that. But here's something to consider: Just a few decades back, people lived their entire lives with their own joints. Now, total joint replacement is one of the most commonly performed surgeries—a million per year in the US alone. At its current rate, this will climb to nearly 4 million surgeries in just a decade. Don't think these are all sedentary octogenarians. No, many patients undergoing joint replacement are people who are active in recreational and high-impact sports.

Take Jane Fonda, an aerobics icon of the 80s, for instance. She had both hips and a knee replaced. Arnold Schwarzenegger had a hip replacement at the age of 55.

In my gym, rarely a day goes by that I don't hear about somebody who's had a joint replaced, is about to undergo a joint replacement surgery, or who is experiencing some knee or hip pain. One trainer in my gym, active all her life through hiking, biking, running, and playing various sports, is now 65. She's had both hips replaced and is facing a knee replacement. A next-door neighbor, a long-distance marathon runner, is now 57 and has both knees blown out and is a candidate for a double knee replacement.

I, too, have both hips replaced. My joints were damaged in infancy. There wasn't a lot of choice in my situation. But there are so many highly active people who started with entirely healthy joints that end up needing a joint replacement later in life. What is going on?

Ever watched a NASCAR race? During a race, tires on a car will be replaced several times during pit stop—the tires just wear out. The joints of all these oh-so-fit people are wearing out just as fast, it would seem.

Some sport experts are beginning to realize this unfortunate trend. I read recently in one of the stand magazines: "In our effort to have strong heart and good muscles, we are ruining our joints."

Now, when I see people going miles on treadmills trying to lose weight, I am even more adamant in my conviction: Weight loss happens in the kitchen, not in the gym. Eating raw foods. See my article The Truth about Raw Foods and Your Weight. Sad to say, walking or running miles and miles on a hard surface, many people are wearing out their joints. Fast repetitive movements done with a "bad form" is a sure recipe for a future injury. And that is what I see is happening right and left in the gym.

I protect my titanium joints. Shouldn't you take good care of your own original bony ones? I am all for being highly active, but through activities that are kind to your joints. There is nothing more disheartening than realizing that the injury you have is your own doing, and that it could've been easily prevented. So be wise. Be mindful of your joints. Analyze what activities are good for them, and which you need to cut to a minimum. Even if you are involved in high-impact sports, make sure you incorporate some serious stretching into your daily life.

An activity I find highly beneficial is hot yoga. I've seen—and felt—the evidence. Try other forms of yoga. No matter where you are on a fitness level, if I can do it with my hip injuries, you can do it.
2. Home Video: My Frog Pose
Our 3.5-year old grandson Nick was staying with us for a month earlier this summer. Watch this 1-minute home video where little Nick and I are having a good time stretching.  Children have a lot of flexibility. So, to stay young we must stay flexible. In my case, to stay youthful, I have to become flexible.

If you've read my books, you know it's long been a dream of mine to do a full split. I can't do one yet. So far, I've mastered a frog pose. But I'm getting close, and I want to share my progress with you. The frog pose is a great achievement for me. To do it after age 60 and with serious hip injuries took a ton of effort. But in that, there's great news for you: If I can do it, you can, too—and with much less effort!

Muscles give us physical strength…Muscles look good… But it is the invisible tendons and ligaments that tell our age. You are only as young as your connective tissues. It is the flexibility of the joints that gives us ease and lightness in the body.

This pose has been very beneficial for my hips. It will do the same for you. One strong reminder: Eat your raw foods. I would never have been able to achieve this level of flexibility for the first time at age 61 were it not for the fabulous benefits of raw foods. The raw food lifestyle creates a certain amount of plasticity, even in a fully developed body, more than medical science deems possible—even in your 40s, 50s and 60s.

Read my book Raw Food and Hot Yoga for inspiration.
3. FREE shipping on BOOKS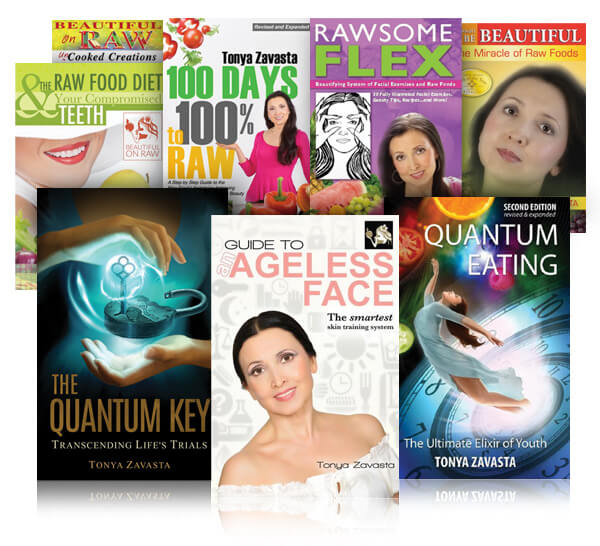 With the advent of social media, the fine art of reading books is declining. My most valuable age-defying information is in my books.
Yet my beauty products outsell my physical books 10 to 1. I feel that some of my customers are missing out… big time.

Each of my 10 books reflect a certain period in my health journey. I've gotten better year after year, step by step. Your journey will be different from mine. Everybody's is different because every body is different. Still you can learn from my findings and inslights. And you can get inspired by the challenges I had to overcome.

I'd love my subscribers to start by reading my books. I'm offering you FREE shipping on my PHYSICAL books for all orders—local and international. These books contain timeless information that really works. But my books are not for everyone. They do contain some controversial ideas—even revolutionary concepts—that may shake your core beliefs. The flip side: Often that's just what you need to realize big improvement in your life.

One of the first reviews I got for my book Your Right to Be Beautiful said: No cooking... This author is crazy. Another woman actually burned a copy of The Quantum Key: Transcending Life's Trials rather than return it! (Ah, well—I'm in good company, there.) My ideas are explosive—figuratively, if not always literally. But they worked for me. They will work for you.

Attention: Inventory on some of these physical books is low. Once some of these titles are sold out, they won't be re-printed. So, here's your chance to get a copy.