Kale Guacamole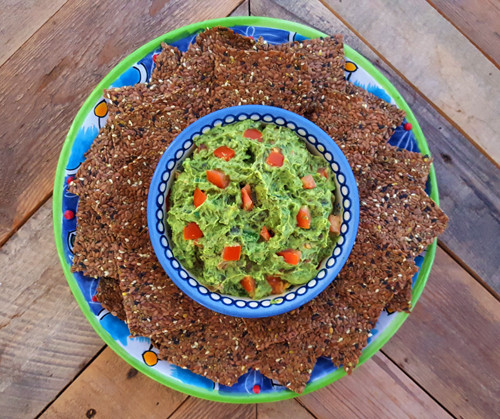 Whether you're a dedicated raw foodist, a vegan or vegetarian, or just someone looking for lighter, healthier fare, you're guaranteed to enjoy a refreshing, gentle difference in this tart, creamy guacamole, combining great ingredients from garden and sea.      
Recipe Author: Beautiful On Raw
Preparation Time: 10 min
Serves: 2
---
Ingredients:
ž   3 leaves of lacinato kale
ž   1 medium size avocado
   3 dates, pitted
   2 strips of kelp soaked for 10 minutes
   2 tablespoons lemon juice
   2 cloves garlic, chopped
   1 small tomato, diced
   ½ cup fresh parsley, finely chopped
   sea salt to taste
Directions:
Place kale, avocados, dates, kelp, garlic, lemon juice, and sea salt into a food processor fitted with a steel blade. Mix until creamy. Stir in tomato and parsley. Serve on crackers.
Ingredients: kale, avocado, dates, kelp
Recipe Type: Snack